| | | |
| --- | --- | --- |
| | Medieval village in High-Auvergne | |
---
| | |
| --- | --- |
| | Surroundings |

Pleaux is a remarkable starting point to discover the Low-Limousin and the High-Auvergne. Following its soul one will launch in a hike on the crest of the Puys or else make quiet stroll in Corréze to discover pretty manors; to visit Salers, one of the most beautiful village of France or the fantastic Tours de Merle. Nostalgic places as ruins of Branzac or the chapel of St Christophe will charm poets and artists. Lover of the nature will be able to follow paths lost in deep beeches or oaks forest. ..
| Museums and exhibitions | Nature and popular art | Villages | Barrages |
| Fortified Castles | Romanes Churches | Nice places of mine |
| Map and distances board |
---
Museums and exhibitions
Exhibition of the automotive miniature, Château de la Vigne, July/ August, in Ally. Tel.: 04.71.69.00.20

Monastery of Mauriac, place Georges Pompidou, 15200 Mauriac. Tel.: 04.71.68.02.78

Municipal museum, 2 street Emile Delalo. Mauriac. Tel.: 04.71.68.07.24

Mill of Malesse, Josette Lascaze-Lherm, 19220 St Privat. Tel.: 05.55.28.21.01

Museum of Knight Templars, street of Templiers, 15140 Salers. Tel.: 04.71.40.75.97

Museum of the cheese and the cow Salers, Les 2 burons, Le Suc Coubru, 15140 St Paul of Salers. Tel.: 04.71.40.70.71
---
Nature and popular art
The forest house of Miers (24 km), opened from July to August at 11am to 19am. Beautiful exhibition presenting the life of the forest and its actors. Path of discovery. Tel.: 04.71.68.22.29
Cascade of Salins, some 8 kms to Mauriac, a path leads to a fall of the Auze 30 meters high, the cascade of Salins. At its feet, near a cave, flows the fountain of Druides.
Monumental cross, cross of stone that line paths of the High- Auvergne constitutes an aspect of the popular art in the region. During your hikes you will meet some inevitably, on Pleaux and in a ray of ten kilometers I have counted some more 70.
---
Villages
Salers, medieval city, one of the most beautiful villages of France. Discover it absolutely.

Fontanges, medieval city, not far from Salers

Spontour, this hamlet is situated in a charming site on the straight bank of the Dordogne. A beach has been fitted. Possibility of sail in loops of the Dordogne on the gabares, boats fully dish destined for transportation of goods until the early of the century. Tel.: 05.55.27.68.05
---
Barrages
Across the Maronne,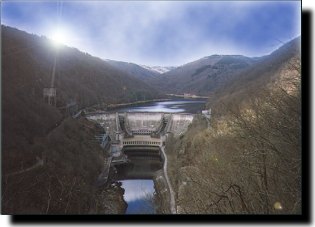 Across the Dordogne,
the Chastang (29 km) was put in water in 1951, the water drowned a part of the valley that sheltered the ancient abbey of the Valette (commune of Auriac). The road that leads from Mauriac to Tulle, borders the bank up to Spontour.

l'Aigle (22 km) has been built under the occupation, a book very interesting retraces its history " L'Aigle sur Dordogne " by Jean-Louis Salat. Publisher Quota.
---
| Summary | History | Discovery | Sports & Leasures | Surroundings |
| Access | Accomodation & Restaurant | Bibliography |
---
Pleaux - High-Auvergne © 1996, 1997 by Vincent Di Sanzo
sign guestbook.